Free report
[Report] Emerging Global Trends in the Beverage Industry
.
Over the years, alcoholic beverages have seen many shifts in consumer tastes and preferences.
As newer products are introduced in the marketplace, many once-sought-after drinks begin fading in popularity. Consumers will turn their backs on a brand that isn't relevant, and this happens more frequently in the beverage industry.
In this report, we will explore five of the most compelling emerging consumer trends in the beverage industry, with a focus on alcoholic beverages, which also include non-alcoholic beverages. With a growing number of people embracing sobriety and moderation, the report delves into this significant existential crisis endangering the alcoholic beverage industry.
This report is for beverage brands, retailers, distributors, investors, bars, restaurants, and anyone who quenches a consumer's thirst for innovative beverages.
Download our latest free trend report and discover the 5 emerging global trends causing a stir in the beverage industry.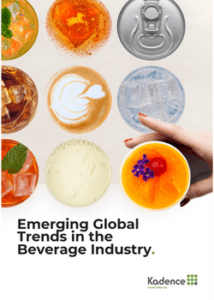 Booze without the buzz. The rise of no-and-low alcohol
Spirit-based Ready-to-drink beverages. RTD create a stir in the beverage industry.
The shift to drinking smart. Low-cal, plant-based, and gluten-free options.
Unlocking Craft Alcohol. The popularity of small-batch wine. spirits, and beer.
The Future of Packaging. Innovative, sustainable, and inclusive design