At Kadence International, market researchers are at the heart of our team. In this series, we honour some of our colleagues, asking them about their experience working within the market research industry and what the future holds for the industry.
Name: Priscilla Yuliani Sasmita
Position: Quantitative Research Manager
Kadence Office: Indonesia
When did you join Kadence?
I joined Kadence's Indonesia office on March 20th, 2013.
What does a typical day or week look like for you in your current role?
I typically start my day at 9 am and check WhatsApp messages and emails. Then, create a task list for the day, check my team's to-do list, and assign/remind them of any task that needs to be done by that day. Sometimes, the schedule has to be shifted due to sudden requests or new projects that need our attention. Unless there is a meeting in the evening, I spare a couple of hours to review the next day's to-do list or review my team members' work.
Tell us a little about your career so far. What was your first job or role?

Kadence was my first job after graduating. Initially, I didn't apply for a researcher position ( I applied for a Finance position), and I had no idea what market research was. During the recruitment process, the Human Resources department suggested I apply for the Quantitative research position. That's how I ended up on my journey as a market researcher. I learned all about Market Research in Kadence, starting from the position of Research Executive.
What did you think your career would be, or what did you say you wanted to do "when you grew up"?
I had never planned to be in the market research field. During my university days, since I was a Finance Major, I always thought I would end up working in a bank.
What is your favourite quote or the motto you live by?

The past is past; you can't change it. Focus on the future.
What is the best thing about the culture at Kadence?

The culture at Kadence is a friendly and helpful one, where there is no barrier between senior and junior team members or various divisions and offices. Everyone is treated the same; you could ask anyone for help.
Get regular insights
Keep up to date with the latest insights from our research as well as all our company news in our free monthly newsletter.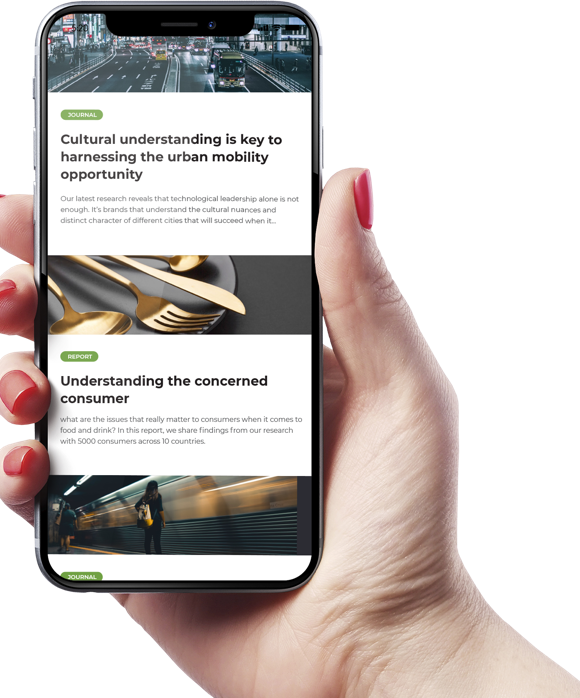 What are essential skills required to excel as a Market Researcher?
Perseverance, curiosity, humility, and a genuine interest in gaining knowledge are the prerequisites in the market research industry. And as in any other field, you should also not take complaints personally and use them as constructive feedback to improve.
What is unique about the market research field / and or consumers in your country/ region?
Culturally, Indonesians are incredibly polite and have difficulty saying "no." They are also sometimes reluctant to express an honest opinion.
What is it about the field of market research you wish everyone knew?
I wish more people knew about the market research field in general.
What piece of advice would you give someone looking to start a career in market research?

I would say that having sound knowledge of basic Excel skills and basic statistics skills is very useful when dealing with Quantitative Data.
However, the most important quality is a willingness to learn.
How have you seen consumer behaviour change in the past 2 – 3 years due to the pandemic? If so, what are your main observations?

In the past 2-3 years, owing to the pandemic, online-based activities have increased, and the at-home market has gained momentum for several products. Remote work has given people the flexibility to work from anywhere (often in a cafe or shared working space), and there is a longing for travel which has increased the number of staycations.
Tell us about a project you worked on (in market research) that you found particularly rewarding, exciting, or enlightening and why?

We had carried out a pricing study for a Coffee Shop chain. The study included three types of pricing methods: PSM, Gabor Granger, and Conjoint Analysis, and asked for several variants sold in the coffee shop, separated into different price tier levels and drinks (like, espresso, tea, blends, etc.). This project was interesting as we analyzed the pricing using three methods to find the stretch of price increase acceptable by each variant or tier level, drink type, and detailed further by each city.
How would market research evolve if you could time travel ten years?

I see market research shifting to online research.
What do you like to do in your free time when you are not working?

I enjoy reading in my free time.
What is something you have accomplished in work or life that you are particularly proud of?

Some of the most rewarding moments of my career have been when any team member I mentor becomes more independent.
What is your all-time favourite food or cuisine?

My all-time favourite food is my mother's home cooking. Currywurst is another dish I enjoy. Besides that, I also like Indonesian food in general.
How has Kadence's remote work opportunity allowed you to achieve a work/life balance? We would love an example.

It's tough for me to strike a balance with remote work. Cutting down on commuting is a plus point. However, sometimes, there is no separation between working and non-working hours. So when your client or your teammates are online and need you, you have to return to work even if it's already past your nine hours of work time for the day.