At Kadence International, market researchers are at the heart of our team. In this series, we honour some of our colleagues, asking them about their experience working within the market research industry and what the future holds for the industry.
Name: Shiraz Haider
Position: Associate Project Director
Kadence Office: New Delhi, India
I joined the Kadence India office in April 2021.
What does a typical day or week look like for you in your current role? Or what are your primary responsibilities/duties?
A typical day consists of discussing aspects of briefs, research documents, and reports with clients, coordinating with our field teams, and Internal team discussions.
Critical duties involve:
Being a key point of contact for all clients.
Troubleshooting their problems.
Ensuring quality output and insights are shared with them.
Tell us a little about your career so far. What was your first job or role? How did you get started with market research? What other roles (in market research) have you had?*
Market research was an elective in my MBA program, and Mr. Anirban Chaudhury, VP of FCB ULKA, took the course. The idea of understanding consumers and their issues being core to a brand's success first registered with me there. Doing well in the class set up the foundation for my interest in Qualitative Research.
Get regular insights
Keep up to date with the latest insights from our research as well as all our company news in our free monthly newsletter.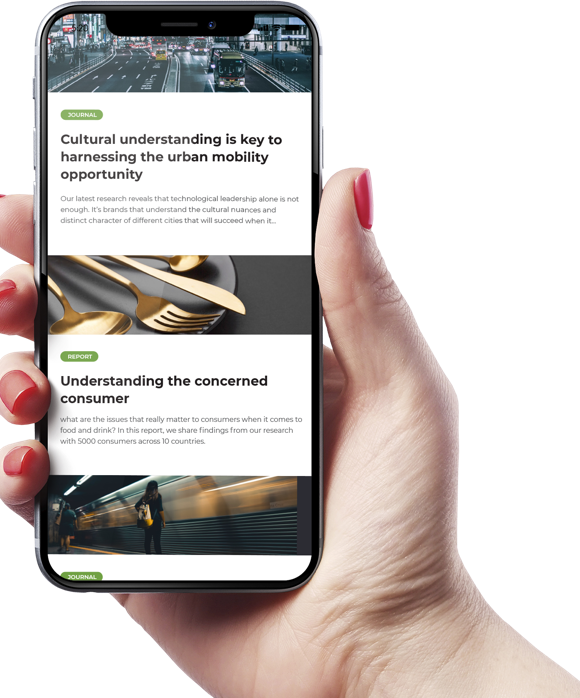 Did you always know that you were destined for a career in market research? Why? If not, what did you actually think your career would be, or what did you say you wanted to do "when you grew up" as a child?*
Marketing and brands were the subjects that I was always excited about. Keeping a tab on recent launches in the field of technology and automobile was also a hobby for me, and after my graduation, I wanted to pursue a career in a marketing-related field, so I joined an MBA course. While market research came into my dictionary quite later, the broad idea of doing something related to brands was always evident.
What is your favourite quote or the motto you live by?*
Life consists of two types of days —one for you and one against you, so when things are going well for you, don't be reckless, and when things are against you, be patient.
What is the best thing about the culture at Kadence?*
Openness to new ideas and genuine empathy for employees.
What essential skills are required to excel as a Market Researcher?*
Being a good observer and listener are the most important skills because only then can you notice even the most minor behavioural insights.
What is unique about the market research field / and or consumers in your country/ region?*
In a diverse country like India, purchase habits vary a lot, even within one geographical area, and to understand such minute nuances getting to the right target that fits the brand/product is crucial.
What is it about the field of market research you wish everyone knew?*
Multitasking is the keyword in market research. I didn't know how important that was when I first started. '
What piece of advice would you give someone looking to start a career in market research?*
If you are open to new challenges, genuinely like to get in the thick of things while interacting with actual consumers, and enjoy travelling the world, this is the job for you.
How have you seen consumer behaviour change in the past 2 – 3 years due to the pandemic? If so, what are your main observations?*
Consumers are now far more digitally savvy; before every purchase, they want to see reviews and vlogs regarding products to check if they fit into their lifestyle, and therefore, organic marketing is doing wonders for brands as compared to conventional advertising.
Tell us about a project that you worked on (in market research) that you found particularly rewarding, interesting, or enlightening and why?*
The project was about a premier Motorcycle brand that wanted to change its brand perception from being ultra macho to a stylish yet VFM brand. However, after our Pan-India research with actual bikes, we realised its brand identity was non-negotiable with consumers, so the brand decided not to compromise its DNA and perception. I found it interesting that consumers don't just buy a product; they want the brand to add to their projected selves, and that aspect is the critical factor where premium pricing can come in.
If you could time travel into the future ten years, how would market research evolve?*
In the next ten years, UI/UX research will be a crucial enabler for brands, AI-enabled data capturing will be the order of the day, and connecting with a diverse set of consumers will be far easier than today. Moreover, online research would be a preferred medium of research by clients.
What do you like to do in your free time when you are not working?
I like to travel, read books, and cook for my family and friends.
What is something you have accomplished in work or life that you are particularly proud of?*
I have become a more well-rounded person due to the nature of the job, as we interact with a diverse set of people every day, from common people to top industry experts/diplomats, and all of them help you to imbibe subtle changes in your life subconsciously.
What is your all-time favourite food or cuisine?
Mughlai and Chinese.
What is your all-time favourite travel or vacation spot, and why?
Turkey. I like the mix of Asia and Europe.
How has Kadence's remote work opportunity allowed you to achieve a work/life balance? We would love an example.
Immensely: Being a father with a six-month-old, I appreciate that I'm not missing out on the joy of my child growing up while ensuring my work doesn't suffer either.