The Internet changed our lives forever. And now, the Internet of Things is transforming our lives yet again.
In recent years, we have seen several significant developments in technology. While these developments were already at play, the pandemic gave a big push and further accelerated the pace of adoption.

In today's connected consumer world, the physical world meets the digital world, and these two worlds cooperatively interact. Big data, analytics, and mobile technologies allow objects and devices to share and collect data over an interconnected network and with little human intervention.
The benefits of using IoT are reduced costs, augmented productivity and efficiencies, and increased convenience. Ultimately, IoT is beneficial for brands and market researchers as it provides them with a wealth of information on consumer habits that they can utilise to increase their profitability.
Get regular insights
Keep up to date with the latest insights from our research as well as all our company news in our free monthly newsletter.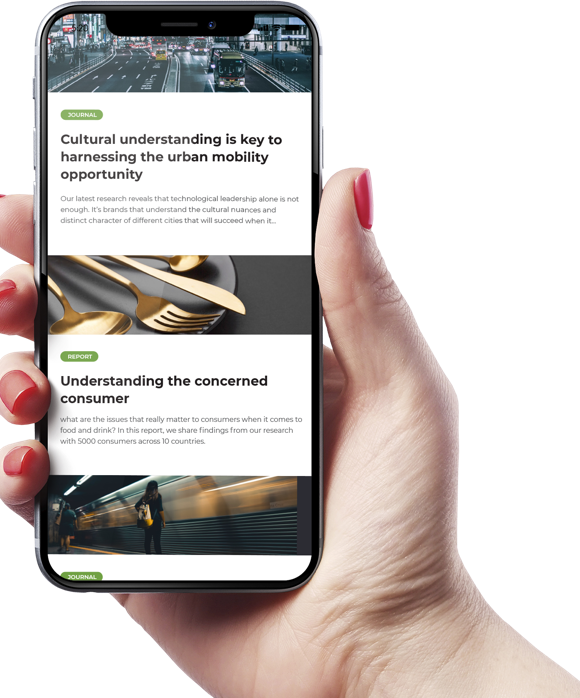 Definition of the Internet of Things (IoT)
According to Oracle, "the Internet of Things (IoT) describes the network of physical objects—"things"—that are embedded with sensors, software, and other technologies to connect and exchange data with other devices and systems over the Internet."

Simply, IoT is when the products we use every day connect to the Internet and each other.
Internet of Things (IoT) goes beyond consumer products and permeates many other industries.
In recent years, one of the most significant developments in the Industrial Revolution is Industry 4.0, and it all began in the manufacturing sector.
What is Industry 4.0?
Industry 4.0 focuses on interconnectivity, automation, machine learning, and real-time data in the manufacturing industry.
It allows manufacturers to maximise production and improve distribution, transportation, and product development.
Industry 4.0 is the convergence of state-of-the-art manufacturing processes with the Internet of Things, which results in innovative, interconnected techniques that can communicate, analyze, and employ data to improve decision-making. This ultimately leads to optimizing, connecting, and automating operations.
Industry 4.0 was mostly restricted to the manufacturing industry in its early days but has expanded to benefit other sectors, like warehousing, logistics, and distribution.
Let's delve into the opportunities for connected tech in other industries:
Healthcare
According to 1Mordor, "the connected medical device market is expected to register a CAGR of 18.92% over the forecast period from 2022 to 2027." The same report showed the Asia Pacific region as the fastest growing market and North America as the largest market.
Connected tech in healthcare is known as Connected Care. It is defined as the real-time, electronic communication between a patient and a medical provider, using digital tools such as remote patient monitors, telehealth, wearable technology, secure messaging, and mobile apps, to name a few.
It is estimated remote monitoring for healthcare could be worth USD 1.1 trillion by 2025.
Wearable technologies hold a significant share of this market as they provide real-time data so health care providers can help patients in remote locations. They provide convenience and cost-effectiveness by reducing multiple visits to the doctor's office. With cardiac-related devices expected to be worth USD 800 billion by 2030, there is a massive opportunity for healthcare brands in the cardiac segment for wearables.
COVID-19 has impacted and accelerated the growth of this market. The pandemic brought about new ways of interacting with doctors remotely due to the nature of the pandemic and pressure on health systems and infrastructure.
While there are data security risks involved, wearables can detect cardiac arrhythmia conditions causing stroke and allow neurologists to diagnose seizures from remote locations; the benefits of these products far outweigh any risks.
Agriculture
According to Statista, the global market size of smart agriculture is expected to grow to USD 34.1 billion by 2026.
Connected tech in farming utilises sensors installed in plots or livestock farms. They help collect data, such as soil moisture and plant vigor, which is used to monitor the health of the crop or herd.
With environmental factors in play, the growing demand for food, constraints on the supply side, and changing consumption patterns, agriculture faces enormous challenges. While we have seen massive improvements in equipment and technology in the past five decades, a digital transformation using connected tech will lead us closer to sustainable solutions.

However, digitization in agriculture faces obstacles. In many regions of the world, connectivity is an issue. In areas where connectivity exists, the adoption of digital tools has been relatively slow.
Therefore, we need to develop infrastructure to enable the use of connectivity. In areas where connectivity already exists, we must take the necessary steps to promote and encourage adoption.
In addition to offering more effective production methods, higher quality food, and more transparency for consumers, smart agriculture can create sustainable production methods that save water, which lessens the impact on the environment and reduces production costs.
Inventory & Supply Chain Management
IoT devices help companies provide enhanced inventory monitoring capabilities and location tracking, leading to increased storage and distribution efficiencies. Companies can figure out where goods are delayed during transportation.
With IoT data analytics at their fingertips, supply chain managers can plan better routes based on potential weather hazards, accidents, and road conditions.
Finance
IoT is the coolest kid on the finance block. It provides a network of internet-connected devices that collect and transmit data.
As banking goes digital, consumers enjoy more convenience in the usual banking processes. Banks can leverage technology to know the needs of their customers in real-time. IoT financial technology software can increasingly collect more data about transactions using built-in Artificial Intelligence (A.I.), enhancing efficiencies, security, and fraud protection.
Retail
IoT technologies help brands track products throughout their supply chain by utilizing GPS and Radio Frequency Identification (RFID). This allows brands to monitor and track where their products are at any given time and predict a more accurate delivery time.
In a world of connected consumers, where they expect brands to be intuitive and relevant, IoT helps brands make deeper connections with their consumers by identifying unique behaviours and having the ability to offer what consumers want —when they want it.
How the IoT is Impacting Market Research
As discussed above, IoT is important to both consumers and businesses in almost every industry.
So what does this goldmine of data mean for market research?
Big Data has daily implications for consumers, businesses, and market researchers. The application of data plays a massive role in market research surveys, and so do data processing and analysis. With market research becoming more digital in data collection and analysis, traditional methods are not enough anymore. Therefore, IoT helps market researchers stay abreast of consumer habits and behaviour.
Furthermore, IoT data is more accurate, reliable, and valuable to market researchers.
It is estimated that, by 2030, roughly 125 billion devices will be connected to the Internet and used daily. Moreover, 5G connections enable the usage of connected devices more than ever before.
Since there is a growing market for IoT, wearables, and smart technology, consumer feedback is a critical resource to help brands adopt the most compelling business, sales, and marketing strategies to maximise their return on investment.
Ultimately, the winning brands will not be the ones with the best, most innovative technology but the ones that have the perfect combination of innovation and ongoing customer behaviour analysis. This is where the role of market research cannot be ignored.
Four Ways IoT Impacts Market ResearchTracking consumer behaviour
Tracking consumer behaviour
IoT is a network of smart, connected devices that work through the Internet. The data is no longer just available on smartphones and computers but encompasses smart appliances, wearable technology, automobiles, and smart, interconnected devices. In a hyperconnected, digital-first world, the data provides a wealth of sights into consumer habits and behaviours.

Analyzing consumer behaviour
The business world is changing at warp speed, with older forms of consumer engagement becoming obsolete. Companies need to move with digitally empowered consumers and adopt digital data collection and analysis. IoT is an invaluable and more accurate tool for monitoring a product's performance and consumer behaviour, preference, and attitude toward a product. IoT can inform brands on how and where they can improve their product and message.

Predicting behaviour analysis to sell when consumers are ready
IoT enables brands to know when consumers need something, benefiting brands and researchers. For instance, a smart car can predict when the oil change is due on a vehicle, carrying essential consumer data and information. This can be used to advertise locations that offer the service. Therefore, it boosts sales.

Offering tailored experiences
By integrating data analytics into their operations, brands can offer more tailored experiences and obtain information on consumer behaviour. Market research is beneficial here. For instance, in 2013, Disney World introduced the MagicBand. These wearable devices collect a wealth of data from hotel bookings, restaurants, and popular rides. Disney World can enable tailored offers using this data on behaviour by utilizing predictive analytics.
Technology and consumer behaviour have drastically transformed in the last two decades. IoT provides data that can help market researchers understand consumers and their habits better than ever before, thereby enabling them to provide reports and analyses to brands that contain accurate, unbiased, action-oriented information free from human error.