Emerging technological advancements are transforming market research forever. As many consumers move online, the way brands identify and understand consumer needs is being reimagined.

Many technology trends disrupt the market research industry —from data collection and new product launches to tracking brand performance. This blog post will focus on the breakthroughs in technology impacting brand tracking and product performance tracking.
Get regular insights
Keep up to date with the latest insights from our research as well as all our company news in our free monthly newsletter.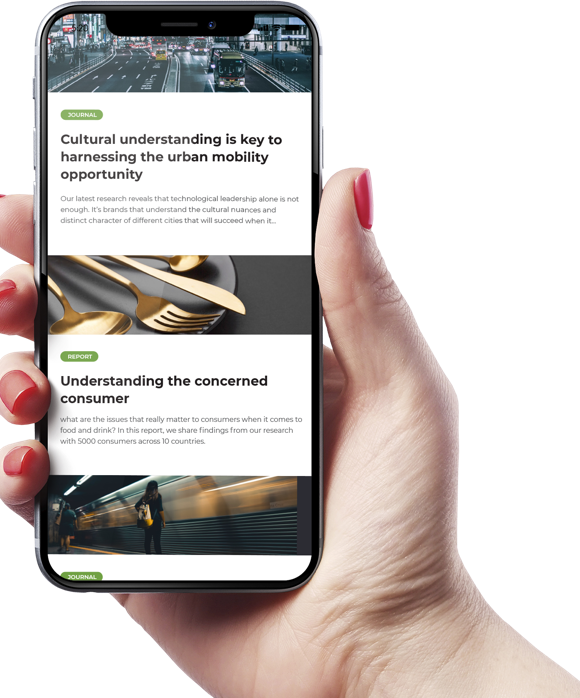 Brand and performance tracking refers to the process of continually measuring brand health over a period within the target audience. It allows brands to measure the performance of a product in relation to its competition. After a new product is launched, market research helps brands gauge performance to stay competitive. 
With consumers increasingly moving online, brands can tap into new, vast, and reliable consumer behaviour data in real-time. This has also made Direct to Consumer marketing much more common. Brands like Happy Human (Singapore), Dime Beauty (U.S.A.), Joi (Malaysia), Sleepy Owl (India), Recess (Philipines), Adopt a Cow (China), and Knot (Japan) have eliminated the middleman to create, develop, sell, and distribute their products directly to the end-user. The absence of middlemen and brick-and-mortar stores allows them to maintain quality and reduce prices. But this is not all. These brands also have the added advantage of measuring performance directly without employing market research across several retail outlets. They can discover brand sentiment directly, making them more agile, nimble, and competitive.
While there is still a place for traditional research methodologies, technologies like machine learning, Artificial Intelligence, Virtual Reality, and chatbots continue to reinvent the market research industry.
Let's look at the primary technologies in brand tracking and competition analysis that are changing the face of market research.
E-commerce brands utilise price monitoring software technology to track competitor pricing.
In the fiercely competitive E-commerce world, the key to outperforming the competition is tracking and monitoring the price competing brands charge for similar products and services. Brands need to keep a keen eye on their competitor's pricing strategy and price changes over several products to stay competitive, and that's not an easy task even for larger companies.
This is where e-commerce price monitoring technology comes into play.
Ecommerce price monitoring software allows brands to track their competitor's price changes and dynamically adjust their pricing.
By employing this type of software, brands can stay abreast with competitor pricing and adjust pricing based on demand, competition, and inventory levels.
Many such tools are available in the market, including Minderest, Price2Spy, and Prisync, with sophisticated matching technology and high levels of accuracy.
Market research utilises machine learning and A.I. for brand and performance tracking to revamp advertising and messaging.
While some grey areas are associated with A.I. in other fields, the market research industry has embraced this technology.
One of the things brands need to track constantly is how their messaging is resonating with the target audience and how the market perceives their brand. This is because a brand is not just the logo and tagline. It is a sum of all parts and is an overall feeling that tells a narrative and evokes sentiment and emotion in the audience.
Technology helps brands better understand brand performance and perception to inform better decision-making. It allows brands to measure and bridge the gaps between their intent and how the audiences interpret and perceive their message.
The use of A.I. in brand tracking has allowed market researchers to analyze qualitative surveys at a fraction of the time taken by manual data collection methods. Furthermore, this enables them to ask more open-ended and follow-up questions, find the right panellists faster, eliminate bias, write reports quickly, and significantly improve the quality of their surveys and reports.
In today's dynamic digital marketplaces, A.I. is powering brand tracking to gauge the changing consumer perceptions.
Sentiment analysis is a sub-category of A.I. and N.L.P., which automatically uncovers feelings, emotions, and sentiments behind plain blocks of text. It is extensively used in brand tracking because it is efficient, reliable, and accurate.
Over 45 percent of the world is on social media. There are about 500 million tweets per day, and about 1.96 billion people worldwide use Facebook every day. Consumers constantly call out brands on these social media platforms and review sites. It would be overwhelming and near impossible to collect data manually. Brands can effectively gauge overall brand sentiment across platforms and channels online using automated tools.
For instance, when the popular ride-sharing service, UBER, launched a new version of its app, it used social media monitoring and text analytics to measure user sentiment about the new version of the app. Eye-tracking technology works similarly and can track users' engagement scores and emotions on a website.
There are several brand tracking tools available for brands. Candymaker Mars used one such tool that combines the standard digital video metrics, like view-through rates and skip rates, with facial expression tracking of the viewers while watching the ad using an A.I. algorithm.
While the tool measures digital behaviours, it puts enormous weight on gauging emotion and sentiment. This technology is essential to track brand performance in a world plagued with minuscule attention spans. It allows brands to obtain a complete picture of consumer perception.
Many technologies use participants' webcams to track their facial and emotional responses while viewing ads, providing invaluable data used to inform sales forecasts.
Chatbots are aggregating vast amounts of consumer data.
The usage of chatbots as a communication channel between brands and consumers has increased by 92 percent since 2019.
As many consumers shop online, they engage with chatbots, making them the fastest-growing brand communication channel.
A survey found that up to 80 percent of users answered questions, three times higher than responses from email surveys.
Brands like IKEA are using chatbots to gather valuable consumer feedback. Companies use Whatsapp and Facebook messenger to measure consumer sentiment and feedback efficiently.
The use of brand tracking cannot be overemphasised. It allows brands to understand how their current audience perceives the brand. It can also lead brands to uncover until now undiscovered target audiences.
With brand tracking software, brands can see the true impact of their campaigns. Brand tracking holds the key to insights any brand needs to thrive. Using the right tools and technology, brands can obtain actionable information about the brand perception among the target audience and how it scores against the competition.
A brand is one of the most valuable assets of an organization. It is, therefore, critical to continually measure satisfaction, awareness, and perception. Incorporating brand tracking into their marketing strategy can help brands understand their target audiences and consumer needs and make more profitable marketing decisions. Technology has made it easier to uncover massive data sets to monitor a brand effectively and accurately. By combining this technology with digital metrics, brands can increase their competitive advantage.